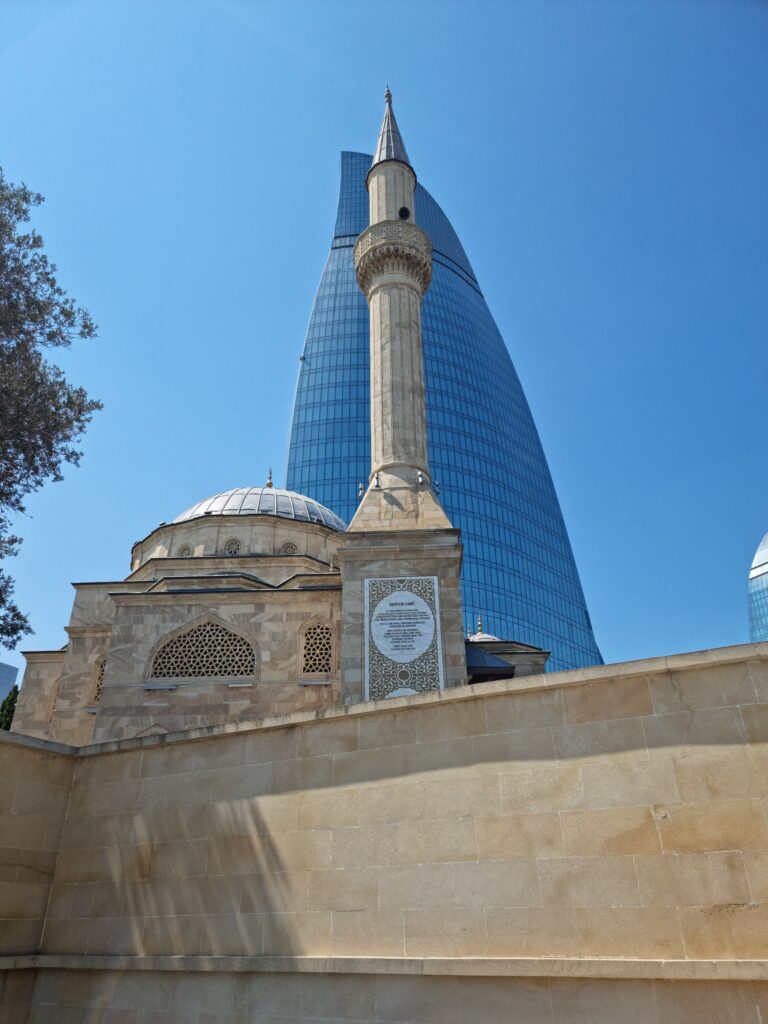 Welcome to Azerbaijan's capital
We decided to travel to Baku for our 1st wedding anniversary and we certainly weren't sorry. Being South African nationals, we do not have a wide range of countries to pick and choose from, as we need a visa for basically every country around the world. A visa is, however, necessary for Baku but it is inexpensive and easily done, whether you choose to do it online or in the airport. If I might advise you, do the e-visa online before departure (it takes 1 to 3 days), the queues at the airport were terribly long. I think our whole flight did there visa's at the airport, so you can just imagine!
So, why did we choose Baku? Nevermind the e-visa, we were looking for a destination close to home with some history. The flight from Abu Dhabi takes roughly 3 hours, the delay of the flight took 7 hours, but let's just leave it at that. Luckily, Baku was worth the wait! Be sure that you visit the correct parts of the town or else, I think, you might be disappointed.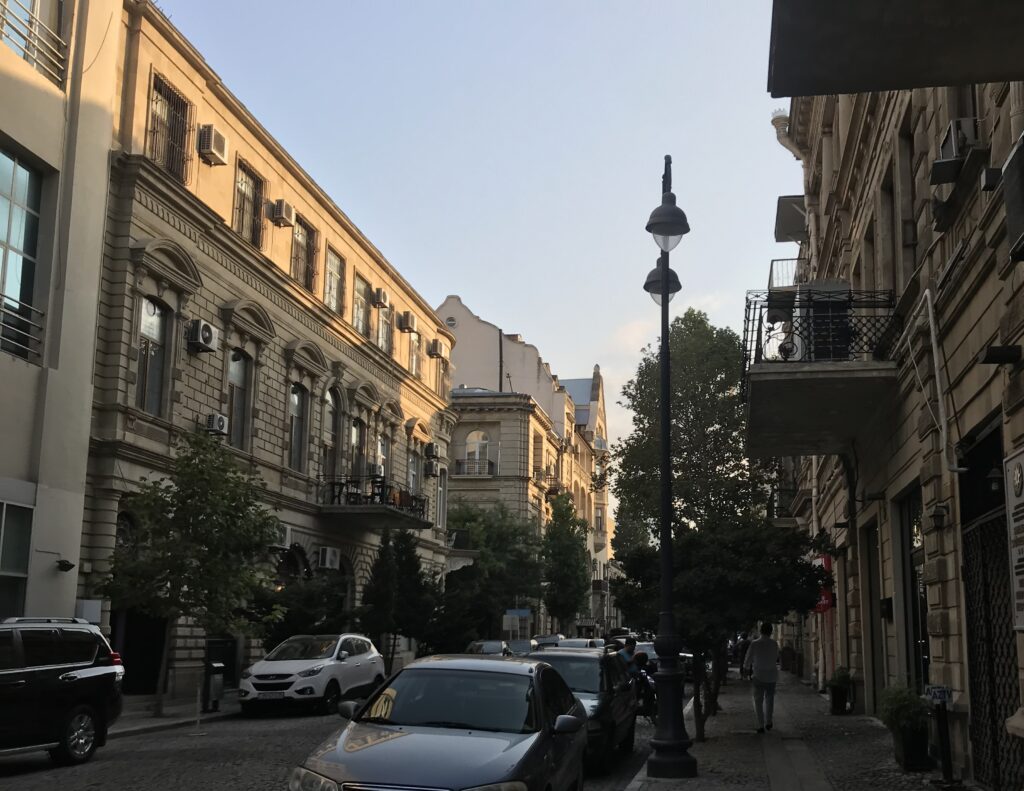 Nizami Street
What a blessing it was to experience this street. We spent most of our time in here and in its surrounding area. During the day it is relatively quiet, but at night it feels as if the whole of Baku enters the street and it's neighbouring streets. Nizami street is basically an open air mall, the only difference being that it is truly beautiful.
If I can take a guess I would say that this is the more expensive part of Baku. The stores in the area ranges from high-end fashion stores to small grocery stores.
On our last day that we were in Baku, musicians played music on the corners of the Nizami Street area.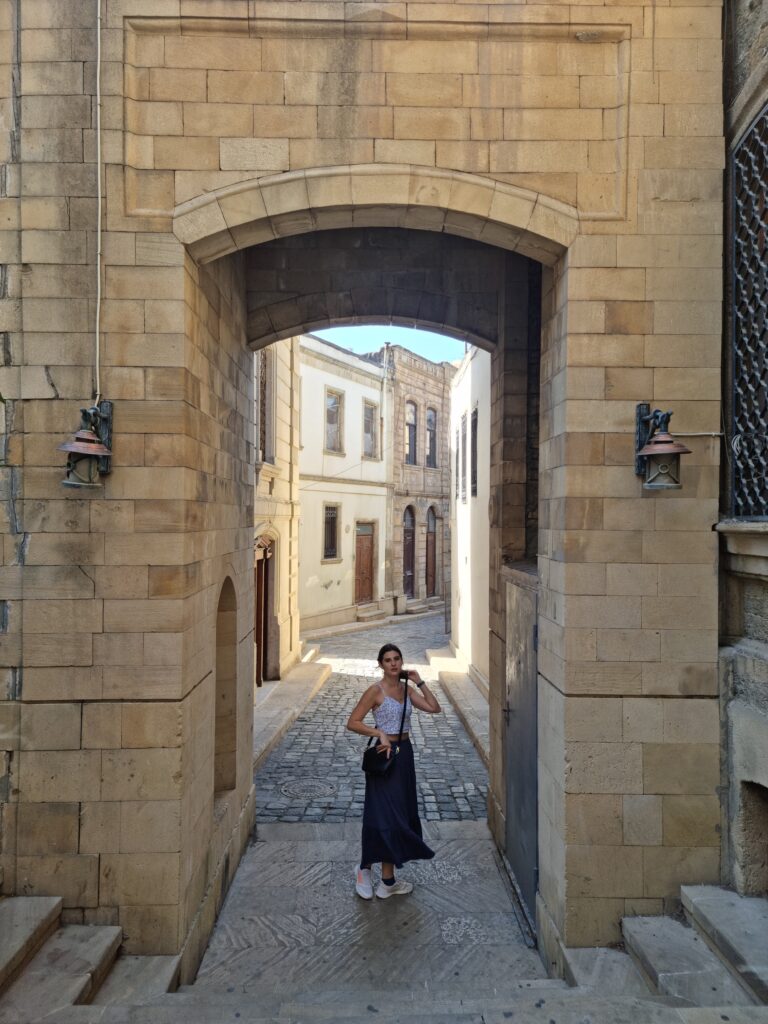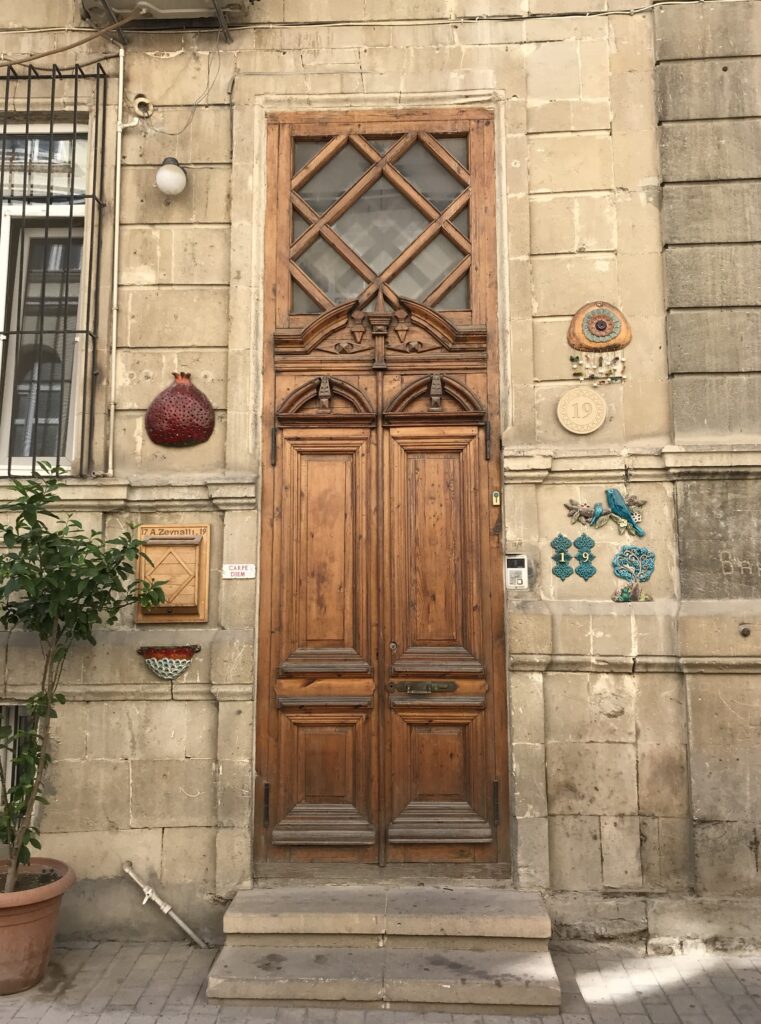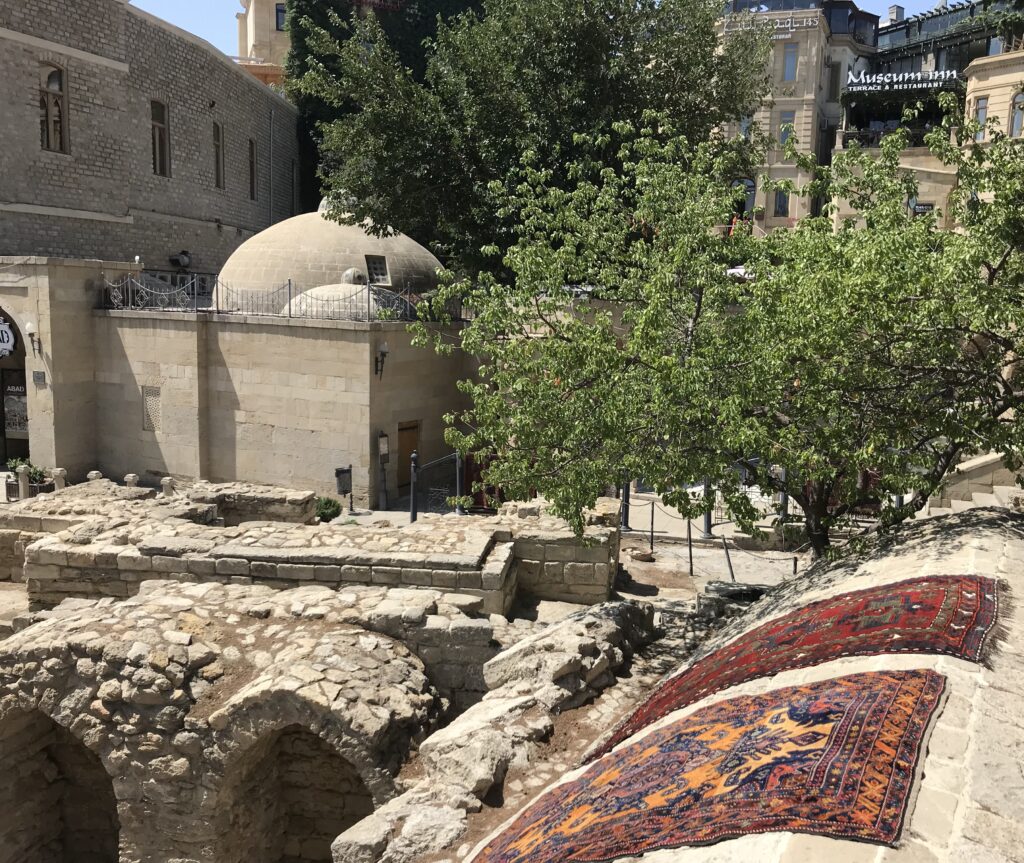 Old City Baku
Put on your walking shoes and let's explore the roads of history. In the south eastern part of modern Baku lies Old City Baku. Once you enter this part of the city, you'll soon notice that it is filled with different architecture styles. Parts of the old city dates back to the 12th century,1 which can easily be spotted if you look at the different types of materials that were used to build the city.
Location
When visiting a new country it is often hard to find the exact location of places. More often than not, Google Maps take you one some unnecessary detour. Old City Baku, however, is easy to find and easy to spot. If you intend to visit Nizami Street, you'll easily find the Old City, probably whilst wandering the streets. The Old City neighbours Nizami Street (which is more of an area really), if you have enough stamina you'll be able to visit both in one day. I would, however, advise you when you plan your trip to make sure that you have a day for each. There is so much to appreciate and admire, which sore feet can easily spoil.
Souvenirs
If you are like me and always want to buy a keepsake, this is the place you would want to go. Not only do they sell souvenirs, they also sell beautiful carpets. Be sure to ask for a special price because they like to ask annoyingly much for stuff, or it's just me being stingy.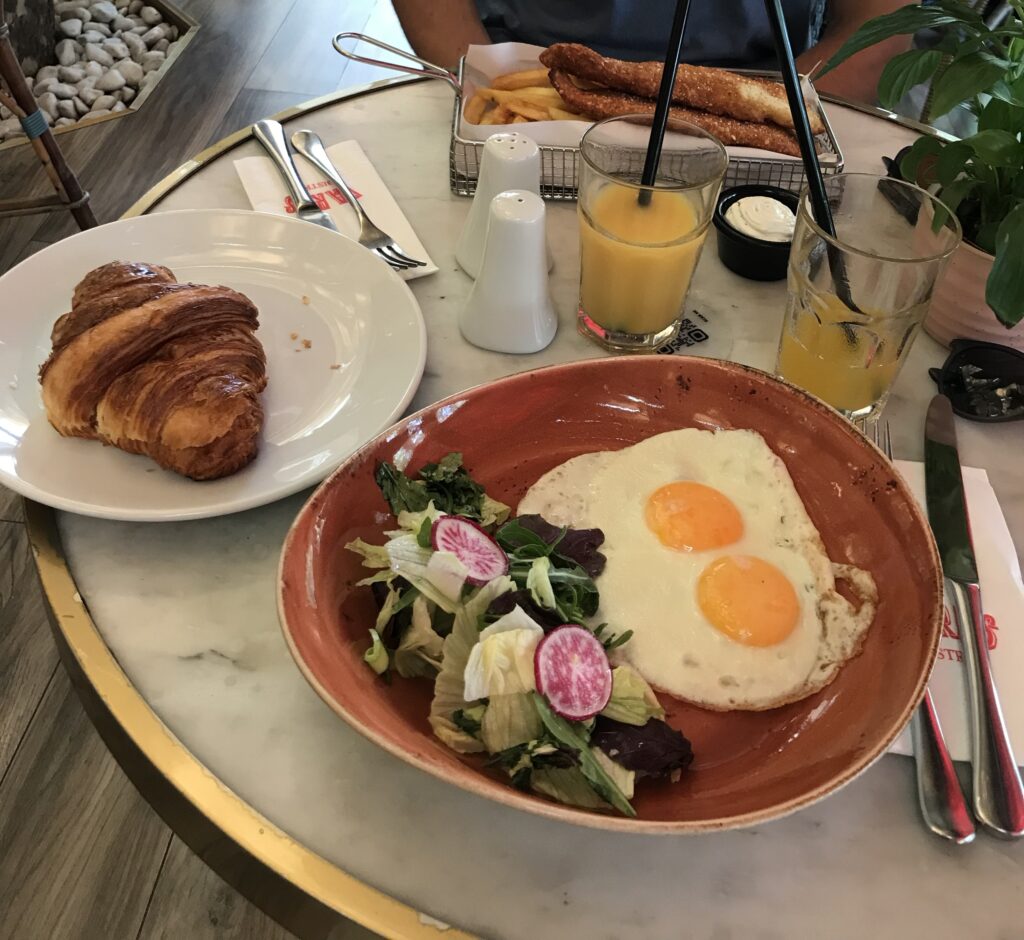 Azerbaijani Food
Nizami Street, home to the most beautiful restaurants and the thickest menus I have ever seen. You'll find a wide variety of restaurants in this area. I was impressed to find that they have everything on their menus, or at least everything we chose. Because we stayed so close to Nizami street, those were the only restaurants we visited, we weren't, however, disappointed.The local cuisine can be easily spotted on the menus and the waiters are more often than not very eager to tell you about the traditional Azerbaijani options. Most of the food we ate, had a nice variety of spices and had a bold taste. I digress, some of the food were a bit tasteless, but it was probably 2 out of 10 restaurants.
Prices
The prices were very good compared to that of Abu Dhabi (half the price), I must however state, that I feel Abu Dhabi is quite expensive. Comparing the amount of food to the prices, you certainly get value for your money. An interesting thing we noticed was that their drinks are more or less the same price as the food in the restaurants. A nice option which they have at most restaurants is that you get your drinks included in the specific option.
Tea
One thing that became clear to us very early in our visit in Azerbaijan is that the locals regard their tea as very important. In Western countries it is custom that men visit bars and drink some sort of alcoholic beverage, in Azerbaijan, it is tea. The restaurants, therefore, have a wide variety of different types of tea. I was even so privileged to drink some Rooibos tea, which I believe is the best tea in the world, my mother begs to differ though. The most common tea to drink is what they call Azerbaijani tea, it is a black tea with a spicy aroma, and it is enjoyed black with a piece of lemon. So if you visit, be sure to taste it, they normally give a rather large pot so sit back and enjoy!
Conclusion
Before visiting Baku, we did some research as to what places we might like to visit. I wasn't expecting much, as most travel websites tend to oversell tourist attractions and I am often not as impressed as they apparently were. Luckily, I was proven wrong, this was truly a wonderful place to visit. It wasn't even necessary to search for the old beautiful places, they were everywhere. I will really recommend that you visit.